The third and final part of the educational workshop for students of high school programs in the field of construction from Varazdin was held on February 13. Through it, students had the opportunity to apply what they had learned during the previous two workshops in a fun way.
To recap, the first workshop, entitled "Why nZEB?", was focused on the basics of the nZEB building construction standard, and the second workshop, entitled "My career is nZEB", was attended by Associate Professor Ph.D. Bojan Milovanovic from the Faculty of Civil Engineering, University of Zagreb, who presented the students with his career of an expert in nZEB construction.
After introducing the students to the basics, the representatives of REA North Marija Somogji Loncaric and Damir Mandic, conducted a short knowledge test.
Students had to solve two real-life problems faced by employees of REA North during citizens' consultations on the energy renovation of family houses.
With the help of the acquired knowledge, the students had to propose those measures for energy renovation of the family house that they believed would bring the most significant savings with the optimal investment price.
The results showed a great improvement among the students compared to the initial level of knowledge, which was the primary goal of these workshops.
During this gamification workshop, students had the opportunity to recognize the importance of teamwork when solving problems, improve their presentation skills and learn how to bring their solutions closer to investors.
In the end, students received certificates of participation.
In particular, REA North wants to thank the Architectural, Natural Science and Mining School Varazdin for the pleasant cooperation.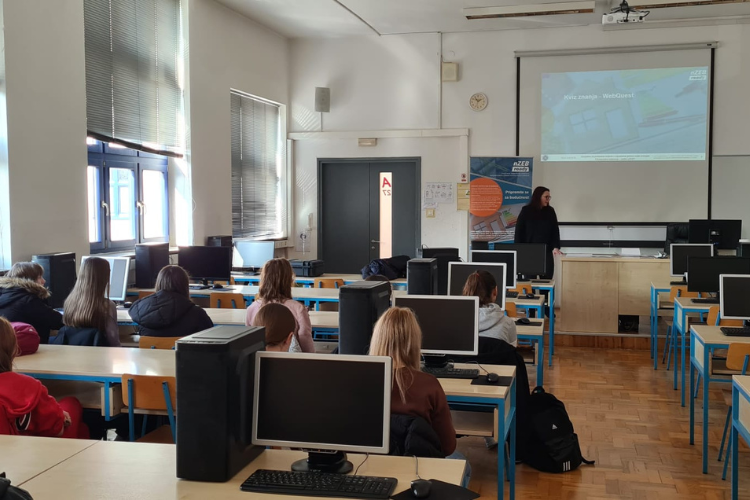 About the nZEB Ready project
The nZEB Ready project is co-financed from the Horizon2020 programme and brings together eight partners from six EU countries, while REA North is the only partner from Croatia. The project plans to answer three key questions: Why nZEB, who can deliver nZEB, and how to reach nZEB?
The project's main goal is to increase the market's readiness for the effective implementation of nZEB projects and to stimulate the demand for workers and experts who will have the necessary skills in the energy efficiency and sustainable construction field.